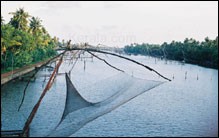 Cherai
Cherai Beach is the best clean golden beach of Kerala and is rightly called " The Prnicess of the Queen of the Arabian sea".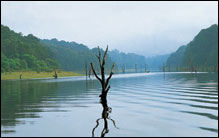 Alumkadavu
Alumkadavu located at 26 Kms from Kollam City and on the lakeside of Kollam-Alappuzha National Water Way. The "Green Channel Back Water Resort" at Alumkadavu makes itself a tranquil location for both foreign and Indian Tourists.

Backwaters
Kumarakom is a panoramic backwater destination situated near the Kottayam district of Kerala and at a distance of 10 kms from the district. It is a small village with cluster of island located on the banks of the Vembanad Lake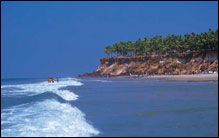 Varkala
Varkala is a Sea side beach resort with rich mineral springs rise majestically from the coastline.It's a beautiful beach that has a more than 2000 years old shrine of Lord Vishnu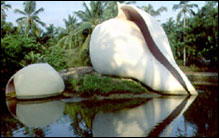 Veli
Veli Tourist Park is a waterfront park that has become a popular tourist destination. A narrow sandbar separates the lagoon from the sea; powerboats, pedal boats or rowboats can be used in the lagoon. The main attraction at Veli is the water, which is a delight for tourists and locals.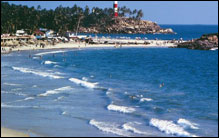 Kovalam
"Kovalam" means a grove of coconut trees and true to its name the village offers an endless sight of coconut trees. Kovalam beach is known as the "Paradise of the South".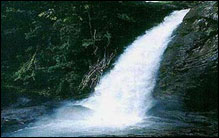 Lakkidi
Lakkidi, the gateway to Wayanad is situated 700 m above mean sa level, at the crest of the Thamarassery Ghat pass. Lofty peaks, gurgling streams and luxuriant forests add magic to the journey up the winding roads to this hill station.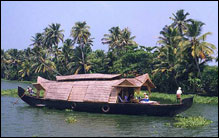 Poovar
Poovar is a small coastal village in Trivandrum district of Kerala state, south India. This village has a beautiful beach which attracts tourists.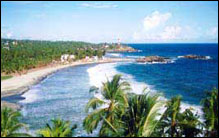 Shanghumugham
A popular city beach near Thiruvananathapuram airport. On holidays, the city comes out to the beach for a weekly refreshing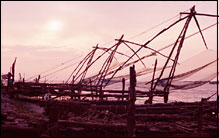 Kochi
It is a charming tourist town in the Ernakulam district of Kerala and was the first European settlement town in India. It has very rich architectural heritage with numerous historic monuments like the Chinese Fishing nets,etc.